Latest News
February 2014
Arts trail listings grow to 34
[Thu, 13 February 2014]
By CHE BAKER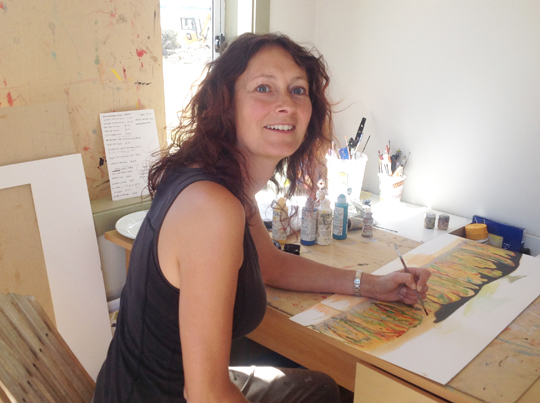 Open home: Contemporary artist Esther Dexter in her new studio based in Queensberry, which is part of the Central Otago Arts Trail.
The Central Otago Arts Trail has expanded with eight artists and galleries signing up to be a part of the artistry road trip.
Central Otago District Arts Trust co-ordinator Maxine Williams said ''the growth of the trail shows artists are recognising the benefits and potential exposure by being part of it''.
The trail gave the chance for art lovers to personally meet some of their favourite artists, such as Alan Waters, Nigel Wilson and Rachel Hirabayashi, or discover new artists by meeting them in their creative environment visiting studios, galleries and workspaces.
The trail was launched in 2012 and there was now 34 listings along the trail.
Trail brochures, which include four separate self-drive tours surrounding Roxburgh, Maniototo,Alexandra and Clyde and Cromwell, Bannockburn and Queensberry, have been distributed to i-SITEs and key locations.
Downloadable maps are also available at www.artstrail.co.nz and people can scan the QR code on the back of the brochure to view the mobile version on their smartphones. Package tours are being developed.
Fast facts Artists and Galleries who have joined the trail: Jenny Hill - Queensberry. Mixed media.
Jillian Porteous - Bendigo. Ceramicist and painter.
Megan Huffadine - Bannockburn. Sculptor and painter Andrew Price - Cromwell, Painter.
Guise Gallery - Cromwell. Woodwork and painting.
Malcolm Macpherson - Alexandra. Woodworker.
Marion Mewburn - Millers Flat. Ceramicist.
The Practice - Ranfurly. Gallery and Gifts.