Events Calendar
What's happening in Central Otago
Across the Bridge in Bannockburn 2018 - full programme.
Location: Bannockburn
Region: Bannockburn
Dates: Wed, 26 September 2018 - Sun, 30 September 2018 @ Daily.
Across the Bridge In Bannockburn 2018
A celebration of art, food, wine and heritage in Bannockburn, Central Otago including exhibitions, dinners, art demonstrations, poetry and more.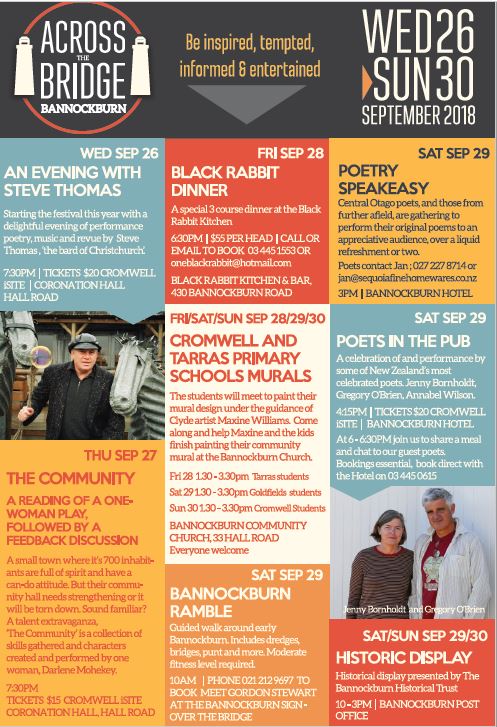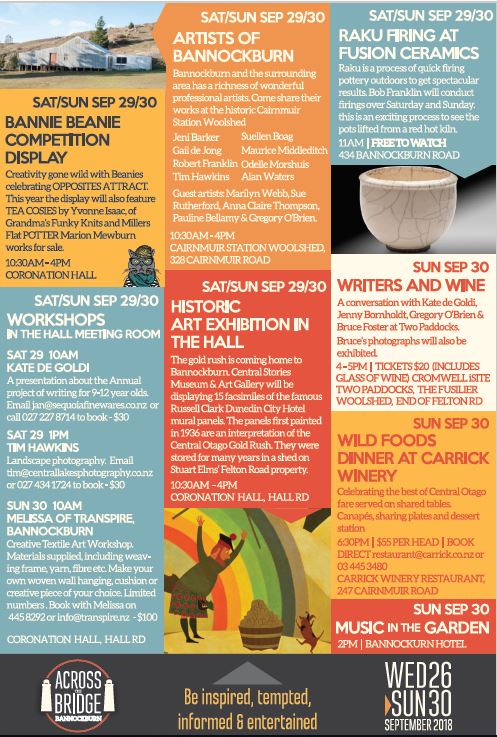 Location
Bannockburn
September 2018
Sun
Mon
Tue
Wed
Thu
Fri
Sat

Central Cinema - NTL: Macbeth.

Thu, 30 August 2018 - Sun, 2 September 2018

2

Queenstown Arts Centre - Flight of Fancy.

Wed, 15 August 2018 - Mon, 3 September 2018 @ Tues - Sat, 10am-3pm

3
4

Pluck - Concert Harp & Blue Celtic Harp.

Wed, 5 September 2018 @ 2pm

5
6

Pleinair Painting Adventures - Otago.

Fri, 7 September 2018 - Sun, 9 September 2018 @ Daily

Gallery 33 - Glass Show.

Fri, 7 September 2018 - Sun, 23 September 2018 @ 10am to 5.30pm Mon to Fri and 10am to 5.00pm Sat &

---

Queenstown Arts Centre - Call of the Mountains.

Fri, 7 September 2018 - Tue, 25 September 2018 @ Tues-Fri, 9am-3pm. Sat, 10am-4pm.

7
8

Central Otago Art Society, Blossom Festival Art Exhibition 2018 - Call For Entries.

Wed, 1 August 2018 - Mon, 10 September 2018 @ Call for entries

10
11
12

Central Cinema - NTL, Cat on a Hot Tin Roof.

Thu, 13 September 2018 - Sun, 16 September 2018 @ 13th Sept@2pm. 16th Sept@5pm.

13

Teviot Tartan Time, 2018

Fri, 14 September 2018 - Sun, 16 September 2018 @ Daily

14

---

15

---

16

Central Stories - Here, There and Everywhere.

Mon, 17 September 2018 - Sun, 4 November 2018 @ 10am - 4pm daily.

17
18
19
20

---

22

Gallery 33 - Glass Show.

Fri, 7 September 2018 - Sun, 23 September 2018 @ 10am to 5.30pm Mon to Fri and 10am to 5.00pm Sat &

Blossom Festival, Alexandra - Cars in the Park & Markets.

Sun, 23 September 2018 @ 10am - 3pm

---

Blossom Festival - Garden Tour, Gardeners Market and Demonstrations.

Sun, 23 September 2018 @ 10am - 5pm

23

Queenstown Arts Centre - Call of the Mountains.

Fri, 7 September 2018 - Tue, 25 September 2018 @ Tues-Fri, 9am-3pm. Sat, 10am-4pm.

25

Across the Bridge in Bannockburn 2018 - full programme.

Wed, 26 September 2018 - Sun, 30 September 2018 @ Daily.

26
27

---

29

---

---

---

---

---

30