Events Calendar
What's happening in Central Otago
Cromwell Film Society - Coming up
Location: A Drop of Red
Region: Cromwell
Dates: Tue, 1 April 2014 - Wed, 30 April 2014

All our welcome to attend the evenings and many casual moviegoers (locals and visitors) joined members in frequenting the screenings. if local support continues and grows we will be able to offer more film and more screenings! so, please spread the word and join us!!
______________________________________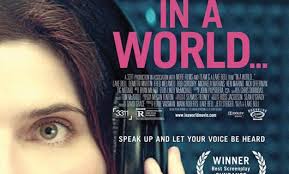 Carol Solomon is a struggling vocal coach. Propelled by the hubris of her father, Sam Sotto, the reigning king of movie-trailer voice-over artists, Carol musters the courage to pursue her secret aspiration to be a voice-over star. Her fiery sister, Dani, becomes a trusted confidante, and Carol engages the skills of a charming sound techie named Louis. Armed with renewed confidence, Carol lands her first voice-over gig—a primo spot—nabbing the job from industry bad boy Gustav Warner. And then the real trouble begins. Carol becomes entangled in a web of dysfunction, sexism, unmitigated ego, and pride.
Lake Bell returns (her short film Worst Enemy played at the 2011 Sundance Film Festival) with her enchanting feature directorial debut. The multitalented Bell also wrote and stars in this hilarious comedy. With the help of a captivating ensemble cast that includes Fred Melamed, Demetri Martin, Michaela Watkins, Ken Marino, and Rob Corddry, In A World… brings its viewer into an idiosyncratic world where one woman fights the odds and finally finds her voice.
10th and 14th of April
____________________________________
Stand Up Guys
They don't make 'em like they used to.
Screen legends Al Pacino, Christopher Walken and Alan Arkin are aging con-men off on one last caper in this comedy crime drama. One of the gang (Pacino) has just been paroled after a prison stretch, and he's picked up by an old pal (Walken) with whom he relives the good old days. The only problem? His brother-in-arms has been tasked with tying up loose ends...
24th and 28th april
_______________________________________
Location
344 State Highway 6, Cromwell
February 2014
Sun
Mon
Tue
Wed
Thu
Fri
Sat

Speargrass Inn - Sunday Music

Sunday

Sun, 2 February 2014 @ 12 - 2pm

2
3

Carl Barron - A one ended stick

Tue, 4 February 2014 @ 8pm

4

Form & Fantasy - Clay Sculpture and Pottery Exhibition

Wed, 5 February 2014 - Thu, 13 March 2014

5
8

---

9
10
12
13
16
17
18
19

Sonia Keogh - Exhibition

Fri, 24 January 2014 - Thu, 20 February 2014

20
23
24
25
26

Call for entries - Arrowtown Autumn Festival Exhibition

Thu, 27 February 2014

27

---

28